WANT TO LEARN MORE ABOUT BANKING? WE'RE HERE TO HELP YOU.
Make this your place to learn more about your money and what you can do with it. Check back for regular updates.

"Save and Invest"
Saving is a key principle. People who make a habit of saving regularly, even saving small amounts, are well on their way to success.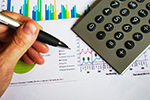 "Personal Budgeting Worksheet"
This Make a Budget worksheet from the Federal Trade Commission, helps you evaluate which expenses are flexible and which are fixed.

"Access Your Credit Report"
The Fair Credit Reporting Act (FCRA) requires each of the nationwide credit reporting companies — Equifax, Experian, and TransUnion — to provide you with a free copy of your credit report, at your request, once every 12 months.

"Fraud Prevention Center"
Learn how to recognize common scams, take action if you think you are a victim of fraud, and what you can do to protect your finances from fraud.